This autumn, arki_lab put the future of Kulbanekvarteret in Copenhagen on the agenda, in collaboration with 104 students from Lykkebo School and the Kulbane Urban Renewal group. The purpose of the project is to create awareness about the soon-to-be-constructed Kulbanepark, and to give students a say in its development. One of the crucial parts of a long citizen involvement process, where trust is built and many creative ideas are developed by and with citizens, is when the time comes for us to translate all of these wonderful ideas into final design.
---
Translating Needs and Dreams
Through a series of workshops, the students received tools to collect data about the area and come up with design solutions. Their task was to design gates to the future Kulbanepark and to Lykkebo School. What dreams did they have for the park? What does the school mean to them? Over the course of the project, we've collected an enormous number of good ideas, both in terms of what should be in the future park, and how students imagine the gate might look. We've now come to an essential part of the process where we need to translate all the knowledge we acquired into physical design; arki_lab is the link between all the involved parties: the Urban Renewal group, local community, school staff, and children. Furthermore, we must be mindful of the resource constraints we're facing, from budget to other resources; the design is to be built with 100% recycled materials and WITH 104 children. For the building phase, we joined forces with the company Repos which is based in Guldminenkbh, a recycling centre on Vasbygade. That places some new limitations on the project, while opening up new creative solutions that might otherwise be inaccessible.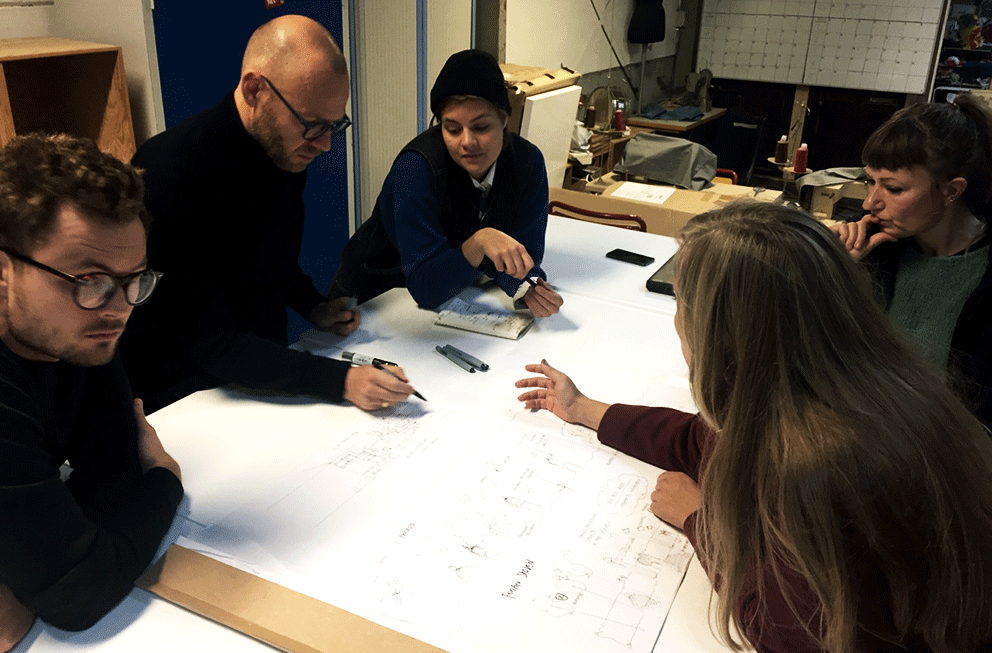 Involve, Listen, Reflect, Respect, Test…
After uncovering all of the imaginative ideas from the students, arki_lab's main objective is to put our expertise into practice by interpreting and translating all of those great ideas into a design proposal. So far we have taught students to be designers, but now we must qualify the knowledge the students have gathered, as well as their own designs, and make some hard decisions. We want a proposal where the students can see themselves in the design, while still being realistic when it comes to time, budget, and so on. We should use our expertise to contribute solutions that they weren't able to think of, but must be confident in their proposals that have been built up over such an in-depth involvement process.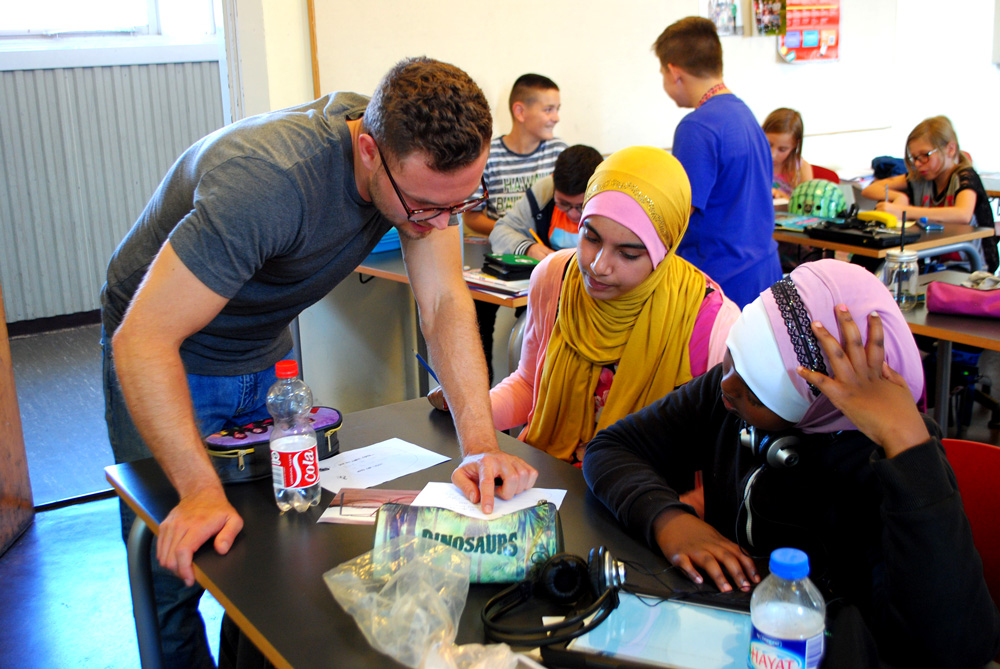 Our role throughout the process is to listen and guide, and to pick up early on some of the designs and ideas that we see repeated several times. This way, we're able to test the ideas out early in the process to see if they get any traction.
---
During these types of workshops, we always ask people to present their ideas to each other along the way, to ensure that they are shared and reflected on. This sometimes shows people that they agree on a particular solution, but that they had not necessarily fleshed out the idea in their minds. This will create a sense of community and ownership around the ideas, while they are still allowed to grow and develop along the way. It's important for us to pay attention to what is being expressed, especially if it´s said many times.
---
Wood Pencils, Plastic Flowers and Dreamy Doors
When looking at all of the information we gathered, a clear pattern emerged for the entrance to Lykkebo School. Pencils were a common thread throughout: some had made mazes of pencils, others made doors, and so on. With this idea, the students would be able to recognize themselves in the project.
The difficult task would be to design these pencils in a way that they could be built by 9- to 11-year-olds, while still being robust and durable enough to withstand the test of time and the elements. On top of that, we had to ensure that we had enough of the same recycled material to repeat the form many times over.
---
The idea of a flower field is another story. At the beginning of the process, these students expressed that they missed nature—scenery that was both colourful and edible. We made sure to show them some inspiration pictures of some nature-inspired installations that could be built by kids. Their first set of ideas therefore went in the direction of large trees and flowers you could climb on and hang out in. When they moved on to building models, their ideas went more in the direction of playgrounds with climbing towers and so on. While big climbing towers were a little unrealistic for this project, we interpreted their idea for climbing towers as a need to see the area where the park is going to be in the future—something you can't see from where these installations would be. To find an alternative solution, our first idea was to make some trees with periscopes built into the trunk. This combined their desire to get closer to nature with the need to look far. But time and materials once again became a constraint. Time to "kill your darlings," as they say. After a trip to the recycling centre, we were inspired by the materials available. We found lids from laundry baskets, which led us to the idea of building giant flowers. A perfect compromise: students would recognize their ideas for more colourful scenery, and it was still something that we could realistically accomplish for the project.

At the second entrance to the park, the students were asked to brainstorm ideas for the activities they imagine occurring in the future park. The challenge for this installation is to be sure not to design anything where people are tempted to hang out for too long, as it's already an exposed place with high vandalism and crime. There should be no loose objects that can be thrown, because the nearby store is experiencing many burglaries. So, in general, a difficult place with many barriers. The students developed all sorts of exciting ideas about playgrounds for their own age group. Climbing towers, crazy slides, and places where no adults or children from other age groups were allowed. They also developed solutions that included all ages, with a special focus on families. They designed all areas with room for play, socializing, nature, and with opportunities to cook together. All very exciting and a different take on inclusive urban spaces.
We now had to find a way to convey the students' fine ideas for the future park in a more poetic and abstract way, since they can't be built just yet. We agreed that it had to be something that could be enjoyed close up, while still being something you can see from a distance while driving by. So we came up with the idea to translate the most popular ideas into pixel art. This is something that could be seen as a little abstract at first, but we were careful to design it in such a way that tied the whole project together. First, all images were in green tones, to reference the future park.
Each image is then framed by a yellow door frame, representing a door to the future—Dreams Doors, as we call them. On the door, students were to write all their ideas for the future park that they have developed throughout the process. This way, all of the idea are still in play, while simultaneously inviting other citizens to be part of the dreams.
---
Dreams for the Future
Common to all projects is that we put the word 'dream' in front, giving students the opportunity to write all their dreams for the area on the final installations. In this way, we remember all the different dreams and statements – even in the final design. It is both exciting and challenging to be responsible for making the tough decisions and sorting through all the good ideas, and the great task lies in recognizing patterns and interpreting needs. By doing this throughout the entire process, we create an open dialog with the participants, and encourage them to share and test their ideas. This ensures that they are part of the decision-making from the beginning.
We look forward to next week when the construction process begins, and the children's dreams and visions become reality. Stay tuned!
Go back