A New Park and Connections
Designing safe and user friendly networks surrounding the park
---
Client: Høje-Taastrup Municipality
Team: arki_lab, BOGL, Atkins Engineers
Our role: Citizen engagement, User analysis, Design and strategy
Location: Gadehavekvarteret, Høje-Taastrup, Denmark
Year: Dec 2017 - Sep 2018
Status: Completed
We have been a part of the new park development with the multidisciplinary team, BOGL Landscape Architects and Atkins Engineers. Our role in the project was to facilitate the citizen involvement processes, gather user data and transform it into specific designs in close collaboration with the team.
From citizen involvement to design
A critical task has been to follow up on the previous engagement processes with the local community and include the key actors from the nearby housing associations, educational institutions, cultural networks and local sports clubs. A strong vision for the park has been to create attractive spaces for all the different users of nearby institutions in order to establish the park as a communal space.
Connections and safety in social housing areas
The park brings new bicycle- and pedestrian routes as well as meeting spots for the local community and educational institutions. Furthermore, the proposal included the design of a safe area for kids to play, learn how to bike and more, which has been done in collaboration with the Danish Cyclist' Federation. Climate adaptation and sustainability were high priorities with the final design focusing on creating new green areas with different types of ecological and climate solutions. The design reflects the social diversity of the area and improves safety in the neighbourhood by implementing different strategies. Through multifunctionality, people are encouraged to stay and engage with one another. Lighting serves as an atmospheric element and selected areas are developed into recreational spaces.
---
---
THE GLOBAL GOALS
We strive to use the Global Goals as a structuring framework for our projects. Here we show how the project contributes to a sustainable future. 
---
3 GOOD HEALTH AND WELL-BEING
In collaboration with the Danish Cyclists' Federation the playground has been designed to teach kids about and promote safety in traffic.
---
4 QUALITY EDUCATION
By including the local educational institutions in the design process we ensure that we can incorporate the practice of outdoor learning in the design.
---
5 GENDER EQUALITY 
The democratically designed urban spaces create an inclusive urban environment, especially regarding activities for young boys and girls alike.
---
9 INDUSTRY, INNOVATION AND INFRASTRUCTURE
By improving connections and mobility for pedestrians the project will create safer infrastructure and consider the needs of the local population.
---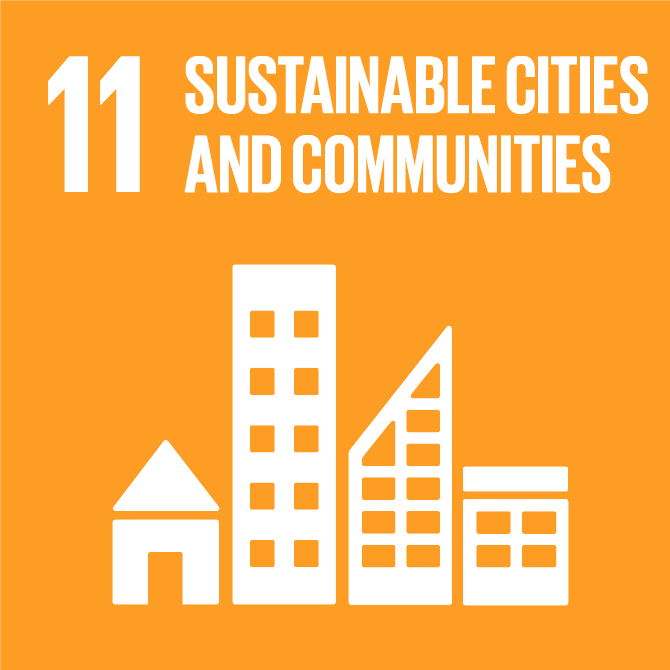 11 SUSTAINABLE CITIES AND COMMUNITIES
Part of the project focused on improving the neighbourliness thus creating a sustainable community based on mutual understanding between local stakeholders.