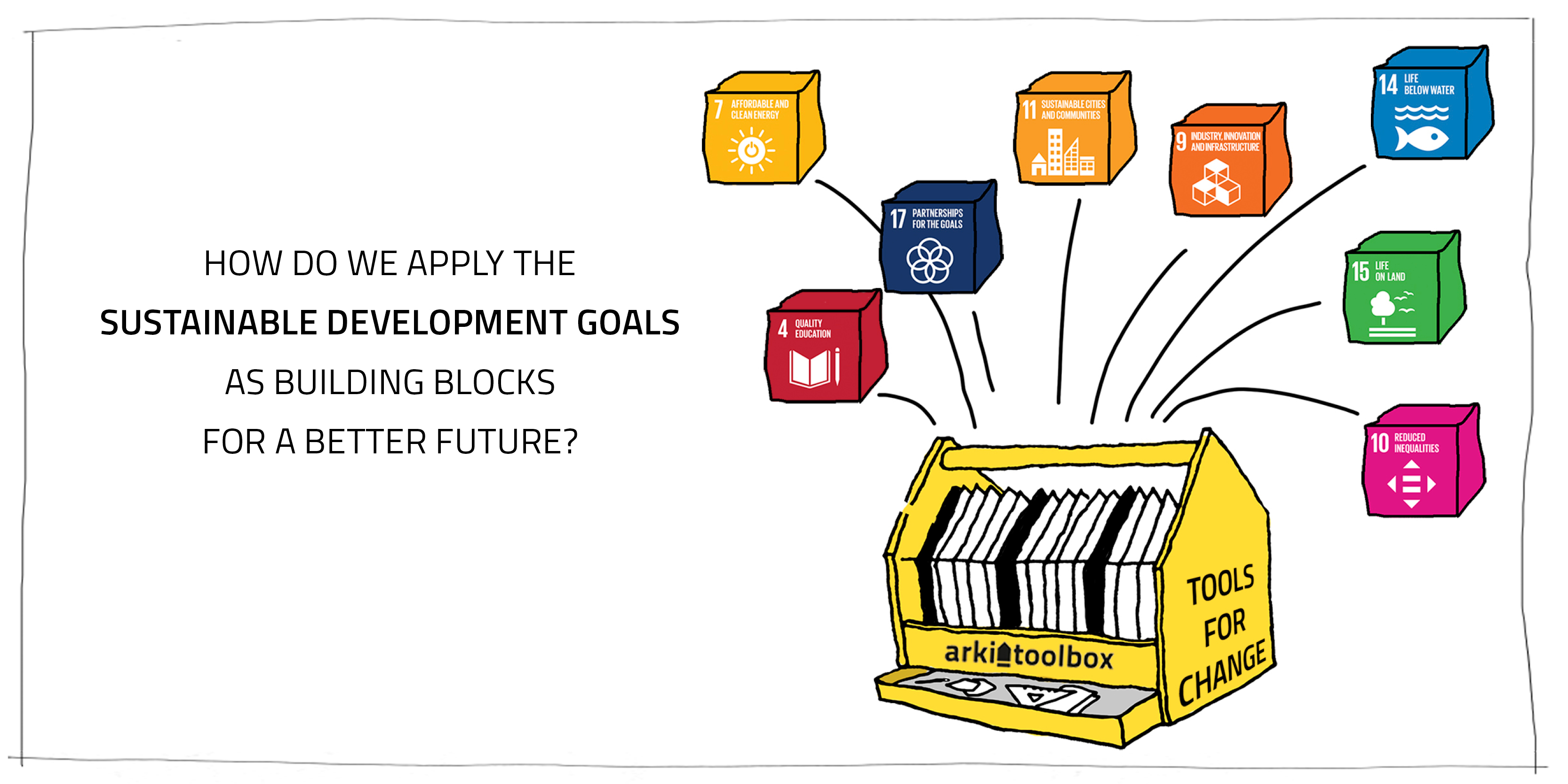 What has happened since we last posted about the Sustainable Development Goals? How do we at arki_lab contribute to their fulfilment, and how can we actively use the goals as a structuring tool? These are some of the questions that this blogpost dives into.
---
A little over a year has gone by since the Danish Government revealed its National Action Plan for the UN's 17 Sustainable Development Goals (SDGs). The plan was criticised for taking too small and too slow steps towards sustainability. But regardless of this, the SDGs have gained traction and interest across many fields. Across Denmark, local governments and NGOs as well as the private sector keeps speeding up efforts to support the accomplishment of the goals.
A New Guideline in Architecture
Within our own field, the UIA (International Union of Architects) has chosen to use the SDGs as the basis for the 28th World Congress in Copenhagen in 2023, which has, in turn, prompted the Danish Association of Architects (DAA) to increase its focus on the goals.
Focusing on the SDGs is an important step since the construction industry is responsible for nearly 40 percent of the global energy consumption, and should therefore play a key role in the transition to a sustainable future
---
Furthermore, our work as architectural practitioners affects our common surroundings to such a high degree, that the SDGs are something that we are especially obliged to focus on. But how do we trigger the transformation? DAA argues that we need to identify ways to incorporate the goals into our daily work, and that our profession's inherent ability to think holistically obviously implies a high capability to contribute to the SDGs. We couldn't agree more on this, and we will be a part of pushing the agenda by using the SDGs as a proactive tool in our daily work!
Architecture Students Strive for Sustainability
The strong focus on the SDGs across the professional architectural field reflects on the educational sector. For example, all students at The Royal Danish Academy of Fine Arts Schools of Architecture, Design and Conservation between 2016 and 2019 must focus directly on the SDGs in their Master's theses. Hopefully this implies that the next generation of architects and designers will be capable of using their innovative and creative skills to develop sustainable products and solutions for the future.
An Interdisciplinary Approach Fosters a Sustainable Mind-Set
Working towards the SDGs requires a holistic approach in planning and architectural processes, where each goal is considered as a part of the whole picture.
No more than a week ago, former President of the United Nations' General Assembly, Mr. Mogens Lykketoft underlined that we need to focus on the internal correlation between all the SDGs, and that the architecture profession has an enormous potential to make progress in this regard
---
As a multidisciplinary office, with expertise in architecture, landscape architecture, urban design, planning, citizen involvement, ethnology and public administration, we have the advantage of being able to view things from multiple angles already in our internal work. This, together with our strong focus on network mentality, local activation, mobilization from below and the help of our skillful partners, gives us the ability to cover an even wider range of the 17 SDGs in the projects we're working on. Looking back on our past work, our approach to sustainability has primarily been shaped by our own environmental and social consciousness. For example, during our project with Johannes High School, we focused on learning and used recycled materials to enhance the end-product, while reducing both costs and CO2-footprint. We believe it's essential to engage the future generation and give them a new mind–set and the tools to create a sustainable future.
Tools for a Sustainable Mind-set
However, one thing is using the SDGs as goals or as tools to measure the sustainability of different projects. Another is turning the goals into a methodological, proactive tool that is useable in the daily work. This is exactly what we are currently working on at arki_lab.
We intend to expand the use of the SDGs into a structuring framework for future projects, ensuring that we remember to take them all into account, thereby taking all possible steps towards contributing to their achievement.
---
We intend to make this effort clear to partners and stakeholders, through describing in detail how we're working with relevant SDGs in future project descriptions and through including our approach to the SDGs in our sustainability profile.
In short, it is our goal that the SDGs are easily identifiable as a sustainability indicator in all our future projects. To make this a reality, we are planning a workshop in the fall with professionals from various disciplines to develop new ways of working with the SDGs. Stay tuned for more information!
Go back